"Ultraprecise Watermark Engraving" to be
honorable security of the world highest level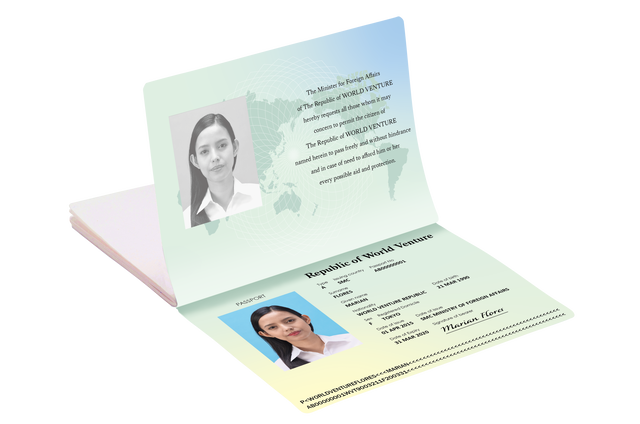 Passport security can be significantly higher by processing applicants' face photograph with watermark engraving when issued.
Even if face photos and transfer images have been exchanged, it is impossible to exchange watermark engraved images. Therefore forgeries and alterations can be detected with visual check easily and accurately without special inspection equipment. World Venture's engraving machines, special synthetic resin paper, and cards are available only to government and public institution for maintaining confidentiality.
Importance of the ability for visual check
Since digitization has been progressive nowadays, authenticity judgement by reading IC chips data and checking with a database of written information have been done commonly. Even still, we might happen to come across the scenes judged authenticity based on only information written on documents (e.g.verification of identity at bank counters, confirmation of qualifications when hiring employees, etc.)
How do we check these documents are authentic and have not been falsified at this time? World Venture's watermark engraving is one of the solutions to be able to judge the authenticity easily by visual check.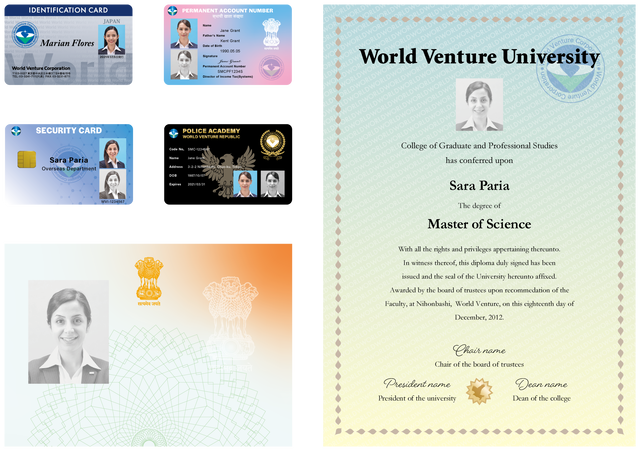 Worry-free Security Created by Unique Technology
World Venture's WVI series are the technology of "engraving watermark" directly such as face photos, signatures, logo mark on plastic cards, or Special Synthetic Resin Paper by using ultraprecise engraving technology. The Special Synthetic Resin Paper has the same dimensions and thickness, no unevenness as regular papers. Desired printings can be made on both an engraved side and not engraved side. This enhances reliability of each certificate drastically, with heightening the security of cards or confidential documents etc.
Feature
1
Visual determination for authenticity of an image engraving, speedily and accurately without using special device or readers
2
Watermark engraved image is impossible to be reproduce with photocopies or printings, differing from transfer
3
Obtaining outstanding durability
Fundamental Principle of Forgery Prevention
The image, that is the same photo printed on the card or passport is embedded in it by graving. Engraved images have negative images through
photo and the image that can be changed from negative to positive are compared with the identical person to check whether the images are the same person.

Installation Destination
Governmental agency/ Special Corporation
Products and Services
Supporting Security Solutions
by visual confirmation.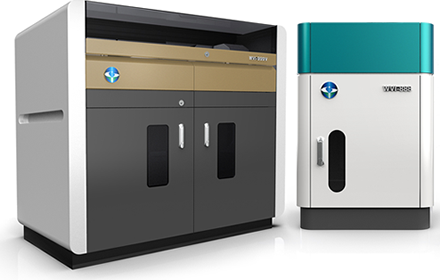 The technology that disables the use of forged ID is supported with the special processing technology.
World Venture has been offering the services, mainly delivery of processed ID by the needs of clients, sales and lease of image engraving machines with high confidentiality of engraving information, sale of IC cards and special papers for processing, and maintenance of hardware.
Manufacture, Sales and Maintenance Services of Engraving Machine.
Images engraved by WVI series can be expressed clearly and smoothly with the same level of resolution as printing images. Different from watermark created by usual papermaking technology, it is possible to engrave different watermark one by one. World Venture's machine can prevent fraudulent use by the user authentication at engraving time. We maintain high level of security by limited customers. Technical service is available as maintenance services regarding follow-through service and maintenance.
Compatible with various media.
Easy setting of media with vacuum suction system
Ensuring high efficiency of work and productivity with excellent usability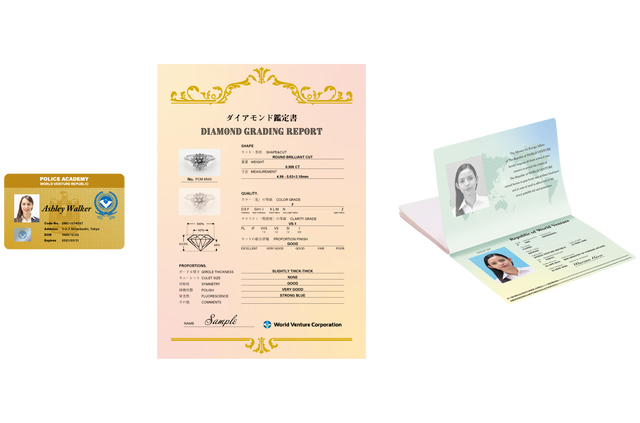 Entrustment Service of Forgery Prevention for Processing
This is the service that ID cards or various certificates giving process with forgery prevention are delivered by clients' request. Clients can order required quantities with processing to meet their needs.
Manufacture and Sale of Media for ID
World Venture's Engraving cards and Special Synthetic Resin Papers could be engraved processing on clients request without changing existing security function.
Engraving Card
IC Chips, magnetic tape, barcodes, hologram, embossing, hidden characters, and marks etc., can be embedded. Therefore security can be enhanced significantly by using together with existing card specifications such as magnetic cards, IC cards (contact/contactless smart cards), or biometric card.
use
Identification card, Credit card, VIP card, Employee ID, Student ID, Commemorative card, Driver's license, Cash card, Pass card, Membership card, Personal seal registration card ,etc.
Special Synthetic Resin Paper
Security of official documents can be significantly enhanced by using SSRP with existing security printing such as UV printing, rainbow printing, various patterns, or detailed printing by lathe.
use
Passport, Diploma, Certificate of appraisal, Official document, Gate pass, Various certificates of qualification, Admission tickets, Cash voucher, Gift token, etc.
Committing to Outstanding
The ultraprecise watermark engraving
provides the world-class security
1
.Great utility for Multi-Media of engraving objects
WVISS can engrave images on various media, such as Plastic Card, Passport and Special Synthetic Resin Paper (S.S.R.P)
2
.Easy Media Setting & operation
Easy setting of media with vacuum suction system.
3
.Enhanced efficiency for work
Newly-developed software has succeeded to minimize the operation process before starting engraving .
4
.Frequency of maintenance is drastically reduced.
Adopting our longstanding know-how of engravings and designing to reduce frequency for maintenance.
5
.Recognition time to replace stylus easily.
Users can watch abrasion loss by measuring height of stylus.
Watermarking by Stylus Engraving
WVI-888 series
WVI-888 is equipped with an ultraprecision engraving engine, space-saving, manual operation type. Mounting and dismounting media is done manually.
It is adaptable to various media, such as plastic Card, passport, and special synthetic resin paper (SSRP), up to A4 size.
Two designs are available, a box type and a stripe type with 3 different two-toned, metallic painting.
WVI-888 box style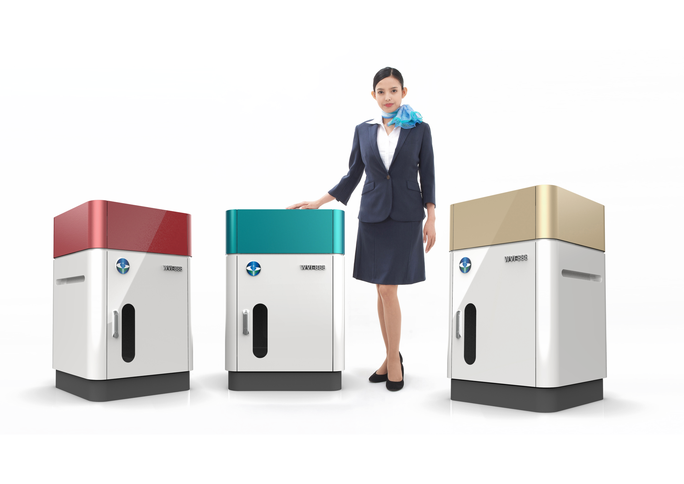 WVI-888 stripe style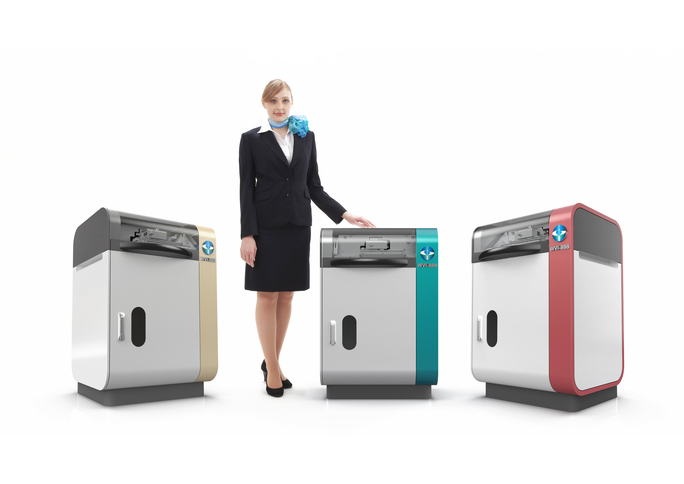 WVI-999 series
WVI-999 is full automatic engraver, which taking out preset media one by one, turn them out after engraving.
It is significantly effective to engrave large quantities of media.
The design is based on stripe type with 3 different two-toned, metallic painting.
WVI-999V is for special synthetic paper, up to A4 size, WVI-999X is for cards.
WVI-999V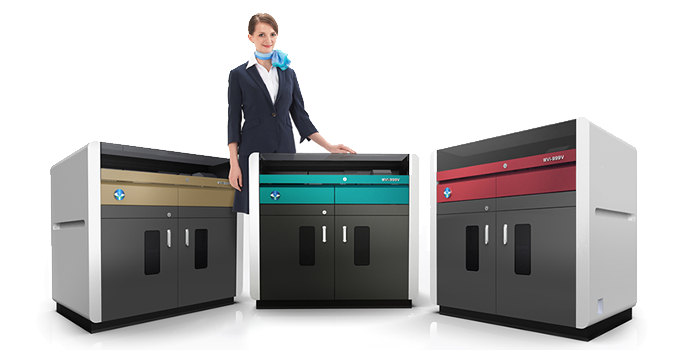 WVI-999X